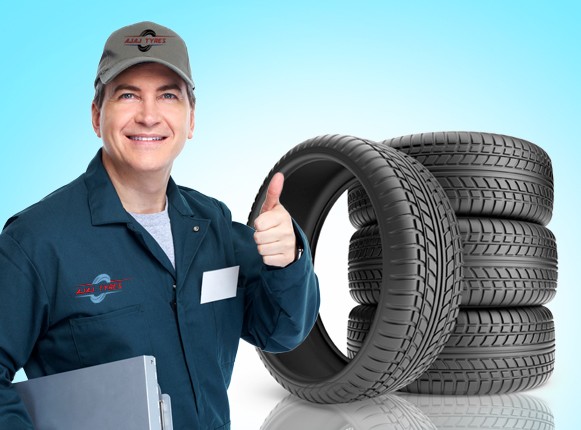 About Us
Brand Vision and Charter:
To be a company that is so well known for "customer service & satisfaction", that people will drive miles to do business with us.
AJAJ Tyres has conveniently located Tyre Shops (Sales & Fitting) in Yagoona, Sydney and Ingleburn, Sydney.
We service over 20,000 customers every year coming from suburbs all around our two locations in Sydney. We do get customers who don't mind travelling to our shops when they need a specific Tyre or Wheels that we have in stock. At times, we do get customers travelling interstate just for a Tyre they're after.
Our Mission:
Not to just sell Tyres and Balance Wheels, but to align our entire business and service expectations to those of our customers.
We aim to provide customers with the best quality products, ensuring they receive top-notch 'Customer Experience'. We listen to our customers' needs and don't sell them anything they do not want, keeping our focus on 'Customers come first', in turn exceeding their expectations in service, quality, and professionalism.
AJAJ Tyres was recently recognised and contracted by one of the many renowned brands like NRMA and Uber, AU.
We put our customers first and have grown from one small Tyre shop to 2 shop locations (Yagoona & Ingleburn). We are also Tyre suppliers to many Tyre Retailers in Sydney, building our business with customers & retails based on Trust, Integrity and Service.
At AJAJ Tyres, we know what service can do to a brand – make or break it.  So, it's the one area that we take more seriously than any other.
Ever since the inception of AJAJ Tyres 20+ years ago, the time since we've been in the tyre & wheel balancing industry, something instrumental we have practised is the taken time to understand our "customers expectations" and ensure that we surpass them.
We realise that it's only when we surpass expectations is when we create 'a Brand loyalty effect'.
AJAJ Tyres' customers keep coming back for more. They rebuy their tyres from us because of the quality of our product, the choices in brands including the service and experience that is an integral part of it.
What drives us:
AN ATTITUDE OF 'CAN DO' – NO JOB TOO BIG OR SMALL
Whether a job involves changing a tyre or balancing a wheel, we will accord it with the same sense of duty, pleasure and gratitude.
Approachable and friendly, our technicians will come to your aid politely, courteously, honestly and sincerely.
They will focus on your job – and get it done, in no time at all, earnestly for you.
Our values:
COURTESY, POLITENESS, FRIENDLINESS & APPROACHABLENESS
If these are the values you seek from your service technicians, and repairmen and women, then Ajaj Tyres is the brand you deserve.
What makes us different?
In a nutshell, it is the decision we've taken to align our expectations with yours and to excel in every department – particularly service!