All About Tyres: That You Need to know When Driving in Sydney
Posted on 29
th
, November 2019
Tyres are often neglected but then they are a very important part of our cars. They are essential for your safety as they are the only link between your automobile and the road. It is a critical contact area and is not bigger than your palm.
A good Tyre serves the following four important functions:
1)   Enhanced grip for braking and acceleration
2)   Support and withstand the weight of the vehicle
3)   Maintain balanced directional control.
4)   Perform as a shock absorber for the vibrations from the road
Having a bad tyre not only deprives you of the fun of driving but also negatively affects your safety on the road.
If you intend to buy a new tyre of replacing your old tyre then AJAJ tyres are there to extend its expertise in this relation. Selecting the tyre for your car has now become a lot more with them. Tyres for Sale Sydney is now available for you at the most affordable prices.
AJAJ Tyres is a house of all types of tyres from all the local, international, budget and premium brands of the world. Just let them know of your requirement and they will be glad to help you with the right type of tyre.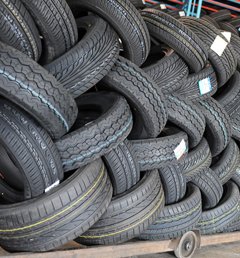 Apart from Cheap Tyres Sale Sydney they provide many services to enhance the performance of your car. The services that they provide and its importance for your car is as follows:
Wheel balancing– the specialist pays precise attention to measuring and positioning of your wheels so that they last for a longer period with minimum wear and tear. Well, balanced wheels are the key to the extended life of your tyres.
Tyre fitting– a well-trained expert from the company undertakes the task of handling, fixing and fitting the tyre. They assure that your automotive is properly balanced and aligned. The improperly fitted tyre can cause damage and pose a risk to your life and car. The specialist provides a thorough check-up for wheel rotation.
Brake pads replacement and repairs- AJAJ tyres replace brake pads replacement and ensure all repairs. It also applies lubricant and brake oil in it for its proper functioning.
Minor tyres repairs and services– punctures that have a tread depth of less than 1.6 mm are minor repairs and it can be done easily. AJAJ tyres accomplish this task by sealing the Tyre's casing so that there is no moisture or contaminants in the structure of the tyre.
AJAJ Tyres is one of the renowned and reputed tyre company deals in all types of tyres of all the major brands. It is a one-stop solution for all your requirements for tyres from different brands and of different types. They will provide all the services associated with tyre and help in extending the life of your tyre.
For more information Get a Quote or Call: 0414 969 969
Looking for Tyres or Wheels service?
Contact our Yagoona or Ingleburn Tyre Shops
For Yagoona Call: 0414 969 969
For Ingleburn Call: 0433 286 232
OR request a quote here: Quote