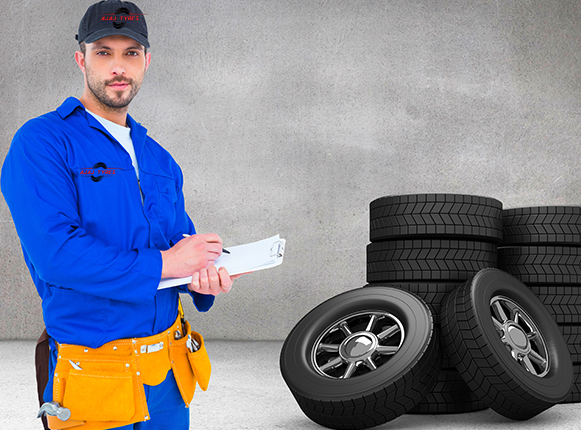 Quality Tyres for Sale in Carlingford At Wholesale Prices
AJAJ Tyres (known as Zoom Tyres & Wheels Sydney) provides with international, budget-friendly & premium Tyres for Sale in Carlingford 2118 . With professional and extensive services from top-notch mechanics, we are your one-stop Tyre shop in your area.
Contact us at Yagoona:(02) 9793 9285, Ingleburn: (02) 8798 7610 Or Mob: 0414 969 969
Why Choose Us?
If you reach out to us, we will provide you with an honest assessment of what we are dealing with, along with a detailed explanation about your repair or replacement options.
We understand how significant an investment your vehicle is. Hence we take proper care of it by providing all the expertise required to make informed choices quickly.
From a friendly professional team to the modern techniques and equipment that we use, we strive to stand out among our competitors. We are all responsible, accountable for all we do, and stand by it.
The next time your auto needs routine service, you don't have to come to us. Instead, if you call us with your Tyre size and all you need, we will come to you with perfect Tyres For Sale in Carlingford 2118.
We utilise your time & money in the ultimate cost-effective way. Our wholesale Tyre prices are unbeatable. We offer leading international budget and premium brands at the most affordable prices including, Silverstone, Bridgestone, Hankook, Kumho, Nankang, Nexen, Windforce, Goodyear, Continental, Pace, Pirelli, Toyo, etc.
We carry out preliminary checks and complete visual inspection before handling wheel balancing and alignment issues, Tyre repair and restoration of punctures or flats, etc.
We offer the best deal on wheels, like buy one get second at half price. Also, our Seasonal Tyre offers are unbeatable.
Additionally, our vast range of Tyres will suit your needs regardless of the kind of car or driving requirements or weather and road conditions. We have Tyres for sedans, SUVs, 4WDs, Utes, commercial vans, trucks etc.
Our Services
Wholesale Tyre Sale in Carlingford
Tyre Brands
Tyres for Sale
Tyre Fitting
Premium Wheel Balancing
Tyre Repairs & Restorations
Tyre Recycling
Wheel Restoration / Repainting
Front & Rear Wheel Alignment
TYRE BRANDS
AJAJ Tyres (a.k.a. Zoom Tyres & Wheels Sydney) offers a comprehensive range of Tyre Brands that contain affordable or premium Tyres and sell them at wholesale prices. The tyres brands that we deal with are:
Silverstone Tyres
Bridgestone Tyres
Michelin Tyres
Goodyear Tyres
Dunlop Tyres
Diamondback Tyres
Toyo Tyres
Nankang Tyres
Continental Tyres
Pirelli Tyres
Pace Tyres
And more
TYRES FOR SALE In Carlingford
With a complete inventory of in-stock Tyres that vary from 13″ to 22″, we supply for sedans, 4x4s, trucks, sports, commercial vans, light trucks, and Summer & Winter Tyres.
SPECIAL OFFERS
Offer 1:
Offer 2
175/70r13 – $88
185/75r14 – $100
195/75r14 – $105
185/70r14 – $100
195/70r14 – $100 (*CONDITIONS APPLY)
Do you Do Tyre Fittings As Well?
Properly fitted Wheels cause the vehicle to be equally balanced and cause no vibration while steering. In addition, our professionals provide skilled Tyre Fitting service along with wheel rotation, round check-up and aligning new Tyres.
Tyre Restoration and Repair in Carlingford
Apart from Tyres for Sale in Carlingford, we provide some additional services too. We do Tyre Repairs for both minor punctures and issues and repair the punctures up 3/8 inch in diameter. Both minor and major repairs can be done to a Tyre, but they cannot overlap; in other words, a Tyre cannot be repaired in the same place twice. Our mechanics draw the problem Tyre from the car to assess it and then make the required repairs.
What is Wheel Restoration?
Our expert mechanics offer Wheel Restoration that converts old wheels to a new condition. Our technicians can Repair & Fix cracked, gouged, gutter, chipped, damaged, and bent wheels and restore them to a pristine condition. With techniques including expert machining and painting skills, as well as expert facilities that include state-of-the-art technologies and equipment, you remain at peace that there will be no damage to your vehicle's paint. Also, your wheels will be in their pre-loss condition.
Is there Any Eco-friendly Method To Recycle Tyres?
Tyre dumping is a hazard to the environment, creating many ill effects, like toxin release, fire risk, landfill garbage, and pest threat. AJAJ Tyres eliminates all the threats to the environment by recycling the Tyres. We take old Tyres and recycle the rubber into new material for various products. Vehicle owners bring their old Tyres in, and we'll turn them into new rubber for different products like building insulations, road covers, athletic tracks, or new recycled Tyres.
CONTACT US NOW
To discuss your Tyre needs, dial the numbers below to speak with one of our specialists.
Yagoona: (02) 9793 9285
Ingleburn: (02) 8798 7610
Mob: 0414 969 969