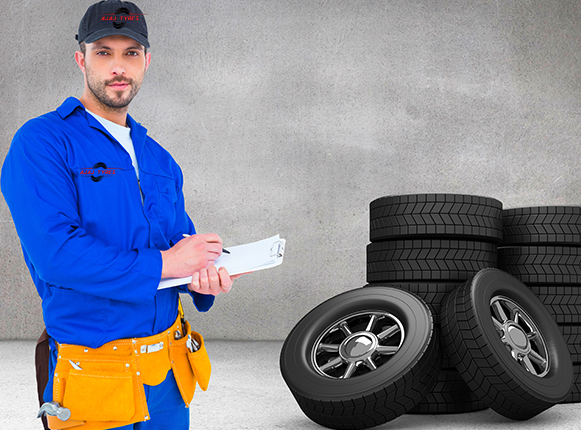 AFFORDABLE TYRES IN SILVERWATER – GET THE BEST FOR LESS!
When it comes to Tyres for Sale in Silverwater, everyone's keen to find a great deal. After all, no one wants to splurge on tyres if they can avoid it. Have you ever spent a large amount of money ensuring that you get good quality Tyres from the best brands? If you do, then you have come to the right page because AJAJ Tyres prevents just that and more.
Call 0414 969 969

THE VAST VARIETY OF TYRE BRANDS THAT AJAJ TYRES OFFER
We never limit our clients in any manner. Instead, we ensure that they generally get what they need from us. For instance, Take our wide collection of Wholesale Tyres in Silverwater. Not exclusively do we stock up Tyres available to be purchased in various models and for a wide range of vehicles, yet we likewise keep a broad scope of brands to offer, all at the best costs.
The brands we offer include:
Accelera
Achilles
Antares
Aptany
Atturo
Auplus
Austone
Bf goodrich
Mainland
Daewoo
Delinte
Bridgestone
Dunlop
Falken
Government
Firenza
Forceum
Fullway
Warrior
Goodride
Goodyear
Hankook
Hercules
Legend
Herovic
HiflyIronman
Kenda
Kinforest
Kingstar
Kumho
Landsail
Lexani
Lizetti
Mastercraft
Maxxis
Michelin
Minerva
Nexen
Nitto
Applause
Pace
Pegasus
Pirelli
Roadstone
Rotalla
Sailun
Silverstone
Zeta
Superia
Toyo
Windforce
Westlake
WE OFFER BUDGET-FRIENDLY TYRES FOR SALE IN SILVERWATER
At AJAJ Tyres, our plan of action is intended to put you, the client, at the very front. All that we do is for the fulfillment of our clients and to guarantee that they have what they need. Our organisation was limited when it initially started, yet our objectives were massive at all times. Each deal we made, we put our earnest attempts into it. And, each client we met was given our best as well.
Giving our best consistently for the beyond twenty years has landed us with a situation at the top and presently, we are generally satisfied to serve more than 20,000 clients consistently, selling Cheap Tyres For Sale in Silverwater 2128.
TYRE REPAIRS AND RESTORATIONS SERVICES
Nobody has the financial plan to spend on new tyres constantly, yet they appear to break down constantly. Generally, wheels penetrate, their edges scratch, break, and gouge; these are the major issues that frequently lead us into stressing over new Tyres. Notwithstanding, while different organisations might consider this a chance to offer their costly Tyres to you, we just wish to assist you with remaining reasonably affordable. We do this by providing you with our Tyre fixes and reclamation administrations.
Our master team will give new life to your Tyres over again with their abilities in Tyre reclamation and fixes. It doesn't make any difference to us what sort of Tyre it is; we can deal with everything.
TYRE RECYCLING
Mother earth and its natural resources are our primary concern, and we can't continue to destroy them. Instead, our approach is to consistently consume non-renewable energy sources and reduce the exposure of harmful material into the climate. We have confidence in safeguarding our current circumstances from damage. Thus, we have our clients come to us to discard Tyres that are as of now not of purpose to them. This way, we have them reused and manage them in a manner that wouldn't demonstrate unsafe to the climate.
Our tyre recycling methods cause minimal damage to the environment, and with the help of modern equipment, we are able to achieve that.
TYRES SERVICES IN SILVERWATER 2128
Tyres for Sale In Silverwater at the Lowest Prices
Tyres Fitting
Wheel Alignment
Wholesale Tyres in Silverwater
Tyre Recycling, including 4×4 and LT Tyres
Front & Rear Wheel Balancing
Tyre Repairs and Restorations
Wheel Repairs and Restorations
Our service technicians are standing by to help you with your Tyre and rim needs.
OUR MONTHLY OFFERS
Offer 1
Buy 1 Tyre and Get the 2nd Tyre for Half Price (*Only On Selected Tyre Brands and Sizes*CONDITIONS APPLY*)
LOWEST PRICE GUARANTEE
Offer 2
175/70r13 – $88
185/75r14 – $100
195/75r14 – $105
185/70r14 – $100
195/70r14 – $100 (*CONDITIONS APPLY)
These are the current offers you will get at AJAJ, however these may change depending on the season and your needs.
WHAT IS WHEEL ALIGNMENT & WHY IS IT IMPORTANT?
Wheel adjusting is a significant wellbeing measure taken to guarantee that the driver doesn't fail to grip the vehicle. For example, we at AJAJ tyres handle front wheel arrangement as well as front and back tire arrangement for our clients since 'Security FIRST'.
Our organisation isn't just about Cheap Tyres. We care about the wellbeing of our clients, and we make every effort to ensure that our administrations make your vehicle protected to drive.
OUR CONTACT DETAILS:
To know more about Tyres available to be purchased in Silverwater, call us at 0414 969 969 or drop us an email at info@ajajtyres.com.au. We would love to hear from you!