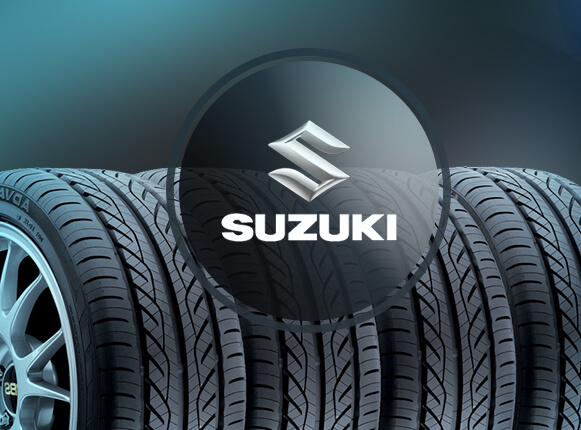 Cheap Suzuki Car Tyres for Sale
Suzuki Car Tyres at Unbelievable Prices in Sydney
Suzuki is a Japanese car brand that's an affordable option popular with both first-time car buyers as well as small families. If you own one and are looking to buy Affordable Suzuki Car Tyres in Sydney, then you're at the right place. AJAJ Tyres is an Australian owned company that offers Tyres for all types of vehicles such as cars, vans, trucks, utes, SUVs, 4WDs, buses, Motorcycles, caravans, light trucks, commercial vehicles and more. We're the Sydney Tyre Specialists that you've been searching for.
Give AJAJ Tyres a call today to get the best deals on Suzuki Car Tyres for Sale. Call us on INGLEBURN: (02) 8798 7610 | YAGOONA: (02) 9793 9285
Affordable Suzuki Car Tyres for All Models in Sydney
'Quality tyres at affordable prices is our motto here at AJAJ Tyres. We've been in this business for over two decades and are committed to providing you with reliable and fast service and quality products. We stock all top Tyre brands from all over the world. If you're looking for Cheap Suzuki Car Tyres, then we're the right guys for you. We stock Suzuki Tyres for all models, such as:
Swift
Swift Sport
Baleno
Ignis
S-Cross
Vitara
Jimny
Top Benefits of Choosing AJAJ Tyres
Here are the top reasons why so many car owners choose AJAJ Tyres for their Tyre needs.
Huge Selection of Tyre Brands
Be spoilt for choice with our wide selection of Tyre brands. We stock brands from all over the globe, so no matter the type, make or model of your vehicle, you can rest assured you'll find the right Tyres for it -at the right price – with us.
Experienced Technicians
We have a team of highly experienced Tyre experts and technicians. When we say we're the Tyre specialists, we mean it. Our team's always ready to help you out by guiding you in choosing the right Tyre that fits your needs as well as your budget. We also provide a host of Tyre repair and restoration services such as Tyre fitting, rotation, alignment, puncture repair and more. Our technicians are OTR authorised and have been trained in customer service. Our goal is to ensure your experience with us is pleasant and positive – from start to finish.
Great Deals and Offers on Tyres
Looking for a good deal? AJAJ Tyres regularly offers amazing deals and offers such as 'Buy 1 Tyre and Get the 2nd at Half Price' and 'Price Beat Guarantee' on select models. So, contact us to find out if we have any exciting offers for you.
Get Your Suzuki Car Tyres Delivered Right to Your Doorstep
Can't find time in your busy schedule to visit our Tyre shop in Sydney? No worries! Your convenience is our priority which is why we offer fast shipping for Tyres. Just call us to place your order and we'll process it ASAP and have your Tyres shipped at the earliest. With us, reliable, fast service is the norm. Did you know that we offer AfterPay? That's right, you don't have to make the payment in full. Instead, you can choose to split up the payment into smaller instalments, so as to not to put a strain on your budget.
Contact Us for Cheap Suzuki Car Tyres in Sydney
The right Tyre can make a big difference to the quality of your drive. Get in touch with us today and we'll help you choose the right Suzuki Car Tyres to elevate your driving experience.
INGLEBURN: (02) 8798 7610
YAGOONA: (02) 9793 9285
MOBILE: 0414 969 969